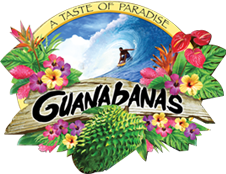 PHASE 1.5 MENU

Look for the fresh from Florida sun to indicate the item from Florida.
We are striving to bring you the best products & service while maintaining the current guidelines. If you don't see something on the menu yet, please don't hesitate to let us know what you would like to see.
Thank you for your patience & understanding as we navigate this unprecedented time.
WARNING: Consuming raw or undercooked meat, poultry, seafood, shellfish or eggs may increase your risk of foodborne illness, especially if you have certain medical conditions.
Guanabanas asks that you please drink responsibly.
It is unlawful to serve alcohol to minors at any time.
For your protection and ours we ID everyone under 30.
Contact Free menu by wsmagic.com